Well I'm beyond excited, because the very lovely Charlotte of
LIPGLOSSIPING
has kindly agreed to do a guest post for me about a cake she made recently...yes a guest post for yes...meeee on my very own little blog!!!
Those of you that don't know who Charlotte is, you are probably missing a trick or two, as she's pretty, very pretty in fact, and world renowned in the online make up blogging community. I have followed her site and noted her words of wisdom for ages now, (yes my other vice is beauty stuff) she knows everything there is to know about make up, beauty products, beauty offers,suppliers, websites and the like.
She's so 'famous' she is often mentioned in the beauty press and has won quite a few
awards
for her blogging and website...here she is pictured with one of them, the Johnson and Johnson Best Beauty Blogger Award for 2011...winning awards like this is no mean feat bearing in mind how many thousands of beauty bloggers are out there!
Charlotte is a talented blogger, and a fantastic writer, her photography is amazing (certainly puts my very poor efforts to shame) and she can bake a mean biscuit, cake or muffin, some of her
recipes
are replicated on her site...Charlotte is a busy working mum, she's knowledgeable, she's gorgeous and she can make her own
hobnobs
!
And...she's very kindly taken time to write a guest post for this blog...and here it is...as I'm away in hospital when you read this, I'll hand over to Charlotte...and thank you so much Charlotte for your 'killer cake' contribution. x
It was my daughter's birthday a few weekends ago and although I love baking, I don't like the intricacies that can come with it. I'm an impatient baker and having to take 'lots of care' isn't my cup of tea. I'm also terrible at any kind of decoration, I can't even make pastry leaves for the tops of my pies.
Yet I made this with no trouble at all...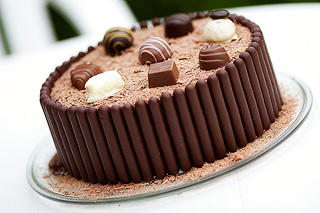 And better still, it was amazing!
The credit for the original recipe must go to Lindy's Cakes but I've made a couple of alterations that worked well for me!
You will need an 8" round, deep cake tin
Ingredients:
110g margarine
110g butter
225g dark chocolate (I use the cheap stuff and am happy with the taste)
1 tablespoon of instant coffee (to intensify the flavour of the chocolate)
450g soft brown sugar
150ml water
4 large eggs
50ml vegetable oil (this keeps the dense cake moist)
100ml sour cream
125g self raising flour
125g plain flour
50g cocoa powder (I used Green & Blacks to make up for the cheap chocolate!)
1/2 teaspoon bicarbonate of soda
Method:
1. Preheat your oven to 150 degrees celsius (fan oven)
2. Grease and flour your cake tin (I hate parchment paper with a vengeance)
3. Add the butter, chocolate, coffee, sugar and water to a pan. Heat it slowly until melted and then set aside to cool.
4. Add the eggs, oil and sour cream to the cooled chocolate mix and stir well.
5. Sift all the dry ingredients into a large mixing bowl and make a well in the centre.
6. Pour the chocolate mixture into well and mix until thoroughly combined.
7. Pour the batter into the tin and bake for 1 hour 30mins. Do the skewer test to ensure it comes out clean! If not, return to the oven for an additional 10/15 minutes before checking again.
That's the cake baked... now what? Turn it out of the tin and leave to cool fully.
My oven rises cakes very unevenly, so I grab a chocolate finger biscuit as a height guide for the finished piece and saw my cake horizontally about a cm below the height of a chocolate finger. Don't worry about absolute accuracy, your ganache can be built up in places if it looks a bit wonky! Eat leftover top with fingers whilst still standing with knife in hand.
The Ganache
Mine is nearly always salted with a good tsp of fleur de sel but for simplicity, this plain version is lovely too!
225g broken chocolate
180ml double cream
2tbsp butter
Gently heat all the ingredients in a small pan until melted and combined. Set aside to cool for 30 minutes before popping in the freezer for another 20 minutes. You want a spreadable consistency, so keep checking on it!
Spread the chocolate ganache over the entire cake, it doesn't have to be perfectly neat.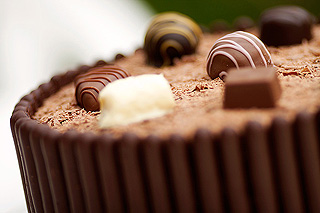 The Decoration
3 packs of Cadbury Chocolate Fingers (I used the dark Bourneville ones and needed 2.5 packs)
100g bar of milk chocolate (the flaked milk choc top contrasts nicely with the dark chocolate edging)
selection of 'posh' looking chocs.
1. Surround the cake with the chocolate fingers, gently pressing them into the ganache.
2. Grate the bar of chocolate for the top... I used a vegetable peeler as a grater made it too 'dusty'. Sprinkle flakes over the top of the cake until the ganache is covered.
3. Place your chocolate box chocs on top and step back to admire your masterpiece!