Something refreshing and with hardly any calories...that's my take on a dieters blackcurrant and mint sorbet...its delish and its easy to make! And with a colour like that you just have to grab a spoon and dive in.
To make my sorbet dieter friendly and bring down the calories as much as I could I used
Truvia
, its made by Silver Spoon from the stevia plant. Its a calorie free sweetener and you can use it in baking and cooking. You use about a third of the amount of sugar you would normally use. I used a very small amount for this recipe. The sorbet was delicious and full of flavour with a hint of mint. I can't say that Truvia tastes exactly like sugar does, as Truvia does have a sweetener taste or an edge to it, but it worked quite well in this recipe and my chief taster said he couldn't tell the difference between this and ordinary sugar.
Ingredients:
1 punnet fresh blackcurrants
2 level tsp
Truvia
(a zero calorie sugar alternative)
water
1 tbsp lemon juice
sprigs of fresh mint
Method:
1. Wash the blackcurrants then put them in a pan with enough water to cover them. Add to this 2 tsp of Truvia, a few fresh mint sprigs and the lemon juice.
2. Bring to a gentle boil and simmer for about 5 minutes or until the blackcurrants have popped.
3. Remove the mint sprigs and any detached leaves.
4. Pour the cooked blackcurrants into a food processor and mix. Remove the liquid and strain through a sieve into a jug, remember to clear off the fruit pulp from under the sieve. Discard any skins etc once sieved. Let the liquid cool.
5. Once the liquid is cool transfer to an ice cream maker and churn for about 10-15 minutes until the sorbet starts to form.
6. Transfer to a freezer proof container with a lid and freeze for at least 2 hours prior to serving.
I served mine with some 0% fat free Total Greek yoghurt (the
fat free split pot one with honey
). Each pot has about 112 calories...I had about a third with this dessert.
It was a delicious dessert and I think my portion (almost sugar free and fat free) didn't event touch 80 calories in total.
I'm entering this gorgeous recipe in
Lancashire Food
's fabulous summer ices competition...you can check out more delicious ices on Linzi's blog
here
.
I'm also entering this recipe into Karens' Herbs on Saturday link up...more about this regular recipe challenge on her blog
Lavender and Lovage
.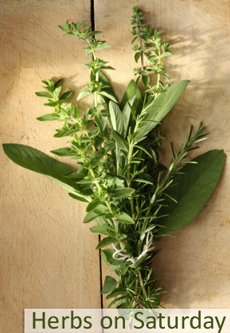 N.B. My sample of
Truvia
was sent to me to try at home and review freely by Silver Spoon, this post is not sponsored by either brand or company and all the other ingredients I paid for.